We are a seasonal organization dedicated to preserving our town's history, providing educational experiences and informative programs to the public, collecting artifacts and maintaining our museum, and providing an avenue for research.
On August 28, 1961, the first meeting of the Holderness Historical Society was held at the home of Susan Bacon Keith.  Through the next years meetings were held in private homes, the Community Church and the firehouse.  When the New Hampshire Baptist Convention declared the North Holderness Church defunct the Historical Society purchased the building and had it moved from Perch Pond Road to Curry Place in 1994.
**See selected Holderness records under Archives
---
Museum Hours
Open Saturdays 10 a.m. – Noon
June 19 – September 11, 2021
Or by appointment.  Contact holdernesshistsoc@yahoo.com or call M. Mason 603-968-3334.
---
Our Newest Exhibit: Dugout Canoe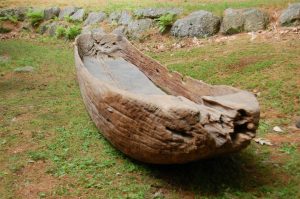 In August 1939, three Tilton NH fishermen found the canoe in 14 feet of water while fishing in Veerie Cove. It was filled with stones to keep it submerged, probably to preserve it during the winter. At the time experts thought the tree from which it was made might have been 300 years old. The Smithsonian advised drying it in a cool place to prevent decay. It was exhibited in a garage in Tilton for several years, then moved to the Shelburne Museum in Vermont which transferred it to the Historical Society this past summer.
The Paleo Institute of Golden, Colorado determined through radiocarbon dating that our dugout dates to 1660 with a 95.4% of certainty.  Foresters have determined that the tree was a white pine which was about 225 years old when it was felled.
2021 Summer Program TBA
---
See Squam Postcard Collection Courtesy of Peter Francesco
We thank local realtor and selectman Peter Francesco for sharing his extensive Squam postcard collection.

---
Doing genealogical research?  For the local cemetery information see site maintained by member Carl Sheperd, website.