We are a seasonal organization dedicated to preserving our town's history, providing educational experiences and informative programs to the public, collecting artifacts and maintaining our museum, and providing an avenue for research.
On August 28, 1961, the first meeting of the Holderness Historical Society was held at the home of Susan Bacon Keith.  Through the next years meetings were held in private homes, the Community Church and the firehouse.  When the New Hampshire Baptist Convention declared the North Holderness Church defunct the Historical Society purchased the building and had it moved from Perch Pond Road to Curry Place in 1994.
**See selected Holderness records under Archives
---
Museum Hours
Open Saturdays 10 a.m. – Noon
June 18 – September 10, 2022
Or by appointment.  Contact holdernesshistsoc@yahoo.com or call M. Mason 603-968-3334.
**Open June 4th all day during the visit of North American Natives
---
North American Natives To Revisit Holderness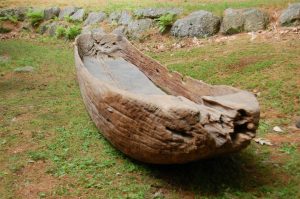 They visited Holderness eleven years ago on the occasion of the Town's 250th Anniversary of its founding. They came to demonstrate various traditional and survival skills some of which made it possible for early settlers to survive their first winters. They are descendants of the Nulhegan Band of Coosuk Abenaki Natives of northern New England. Their last visit attracted broad interest.
All day Saturday, June 4, 2022 beginning at 9 am, many of these same descendants will revisit the town common and bandstand area behind the post office at Curry Place, as guests of the Holderness Historical Society to demonstrate once again many of those same skills: basket-making, birch-lined sap boiling pots, a birch bark canoe, flute-making from local woods, tools, story telling, a drum and fashioning out a pine log into a dugout canoe.
This dugout project expected to take many days, is especially meaningful to the town and historical society because three years ago HHS acquired from the Shelburne Museum in Vermont a mid- 17th century Native dugout that had been discovered in Squam Lake in Veerie Cove in 1939. There has been much public interest in the dugout and experts have come to measure and photograph the Squam Lake dugout. It has been carbon-dated by a laboratory in Colorado, wood identified and tool marks analyzed.
This event will be open to the public free of charge.
---
2022 Summer Programs
June 29th at 7:30 pm
Colonial Stories: The Tangled Lives of Native Americans and English Settlers
Presented by Jo Radner
July 20th at 7:30 pm
Heroes and Homecomings: Norman Rockwell and World War II
Presented by Jane Oneail
---
See Squam Postcard Collection Courtesy of Peter Francesco
We thank local realtor and selectman Peter Francesco for sharing his extensive Squam postcard collection.

---
Doing genealogical research?  For the local cemetery information see site maintained by member Carl Sheperd, website.